Kitchen Design Trends 2023
The beginning of each year brings new design ideas and trends to the kitchen industry.
Get to know the trends for 2023 kitchen design and see how you can add them to your home with your next renovation.
Design With The 2023 Pantone Colour Of The Year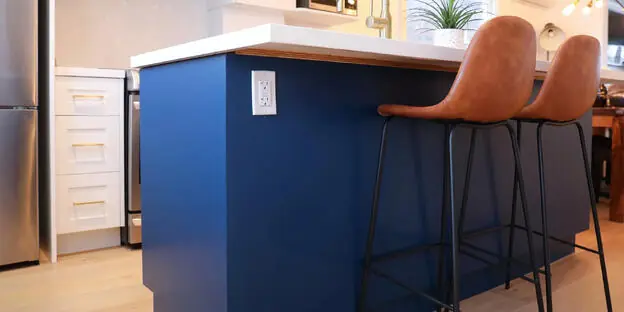 Pantone's Colour Of The Year consistently drives design trends as its announced. This year, the colour is Classic Blue.
Classic blue represents a "dependable and stable foundation on which to build on", which is exactly what you need in the heart of your home.
A popular way to add colour to the kitchen is through cabinetry.
Classic blue acts as a neutral in the kitchen and pairs easily with light and dark colour schemes.
Designing with blue kitchen cabinets is a growing design trend and shows longevity in the industry.
You can skew to a darker shade of blue for a more subtle look or brighten up the blue for a refreshing pop of colour.
If you can't commit to blue kitchen cabinets, you can always use the 2023 Pantone Colour Of The Year in your kitchen textiles, backsplash or dinnerware.
Design With Matte Black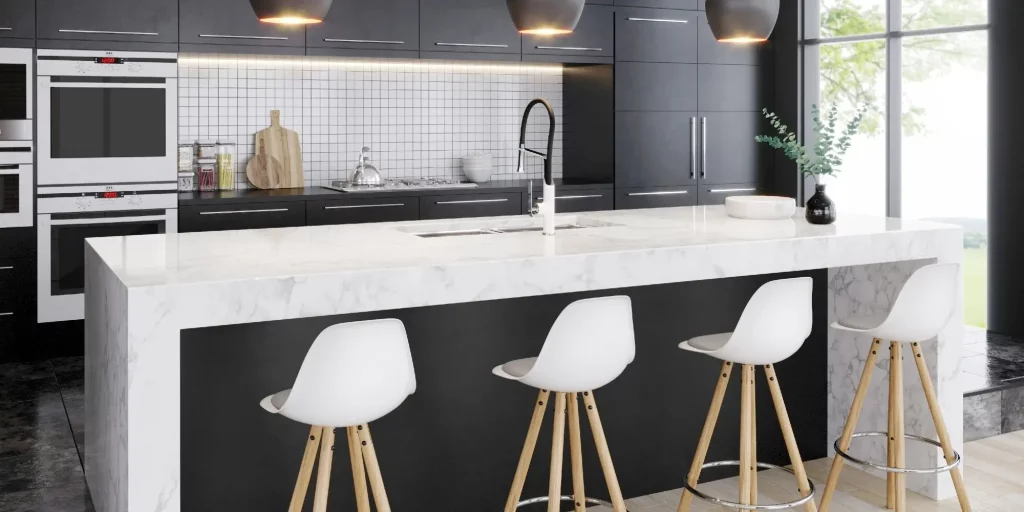 Take your kitchen from classic or transitional to modern with a change of hardware and accents.
Just change out faucets, handles and pulls to a matte black finish!
Many popular kitchen faucet brands have their faucet styles available in a matte black finish to meet the demand for modernity.
And you don't have to worry about the finish wearing off!
Matte black finishes are well developed to meet the usage needs of the average household kitchen.
Design With Multi-Tone Faucets, Hardware and Cabinets
Add dimension to your kitchen by using multi-toned hardware and cabinetry.
Matte black is just one of the finishes for faucets and hardware, but there are plenty of options on the market. For example, from The House Of Rohl,
there are 11 different finishes to choose from including Satin English Gold, Tuscan Brass and Rose Gold amongst others.
For hardware, like pulls and handles, many of the top kitchen and bath brands carry finishes to match their faucets and sinks.
But you can certainly get creative if you want to add more interest. Visit antique shops for more intricate designs.
Or, you can mix and match finishes and shapes of hardware to create extra shine and character in the kitchen.
If you're looking to make an even louder statement with a multi-tone kitchen, change out the colour of your upper and lower cabinetry.
By choosing a darker colour on the lower cabinets and a lighter colour for the uppers, you'll encourage the eye to move up and down the kitchen space.
Design An Eco-Friendly and Sustainable Kitchen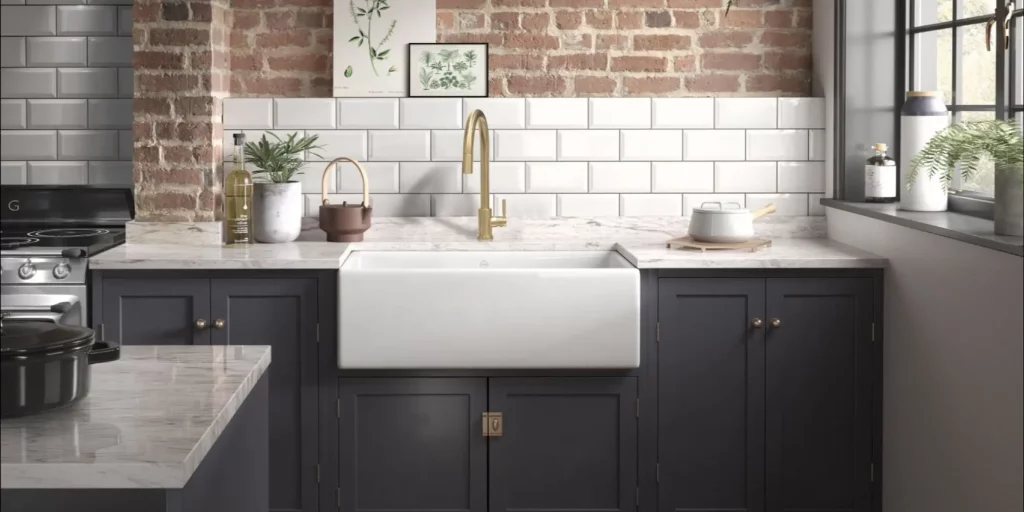 If discussions about the environment and design sustainability have you rethinking your kitchen design, it's a great time to consciously design a kitchen to meet those goals.
A common practice is to buy appliances with Energy-Star Ratings.
These appliances help reduce energy consumption and operating costs, saving both the environment and your hard-earned money.
One of the less explored methods for an eco-friendly and sustainably designed kitchen is to install a garburator.
Garburators are growing in popularity because they provide a great way to dispose of scraps and food waste.
It effectively reduces the number of scraps and food going to landfills or the smell that builds in your compost bin every week.
Garburators are fairly easy to have installed and in most cases, they sit just below the sink.
Look for Garburators from brands like InSinkErator for the latest food waste technology.
While you're thinking about the sink, it's also a great time to consider touchless faucets.
With touchless faucets, the water is only activated when you actually need it. This reduces the water wasted between turning on the faucet, soaping up a dish, etc.
Some other ways to be more eco-friendly in the kitchen include:
Refacing existing cabinets to reduce construction waste
Choosing eco-friendly surfaces like Quartz for your countertops. The amount of resources used to manufacture a quartz countertop is significantly less than other types
Choose energy-efficient lighting. These lights take less energy to operate and still produce the same effect as older lights
Design With Functionality and Purpose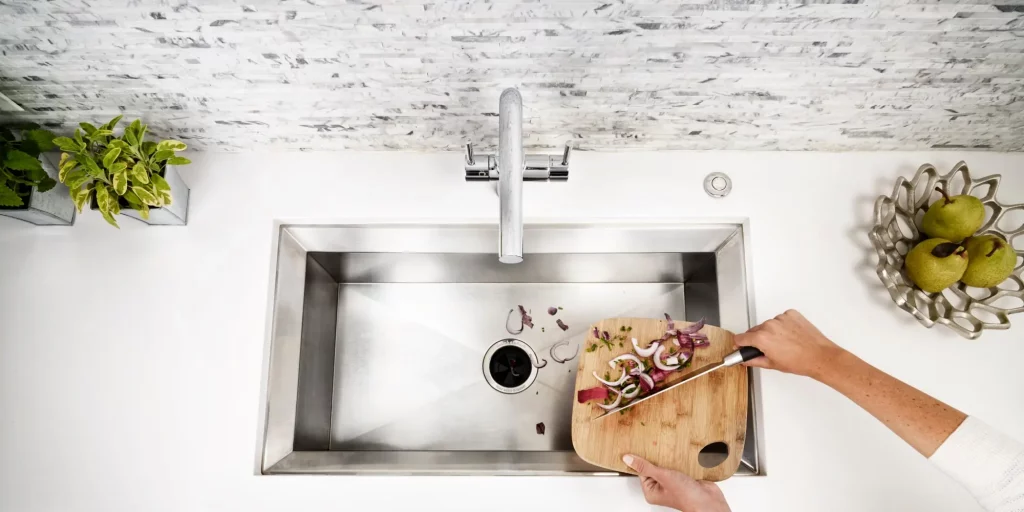 Open concept layouts have been a popular design trend for the past few years, but the idea of kitchen functionality continues to drive kitchen design trends.
When you're ready to design your kitchen, think about how you see yourself using the kitchen on a regular basis.
Do you see yourself entertaining a group of friends or family in the kitchen?
Do you see your kids running around in the chaos of the morning? Maybe you'll need a kitchen island with an overhang to double as a breakfast bar.
Maybe you'll want to include smart home technology and touch faucets. Or maybe you'll add a pot filler above the stove for easy cooking water access.
When you have an idea of how your kitchen will function, you can design accordingly to your needs.
Design Your Kitchen With a Kitchen and Bath Classics or Wolseley Studio Consultant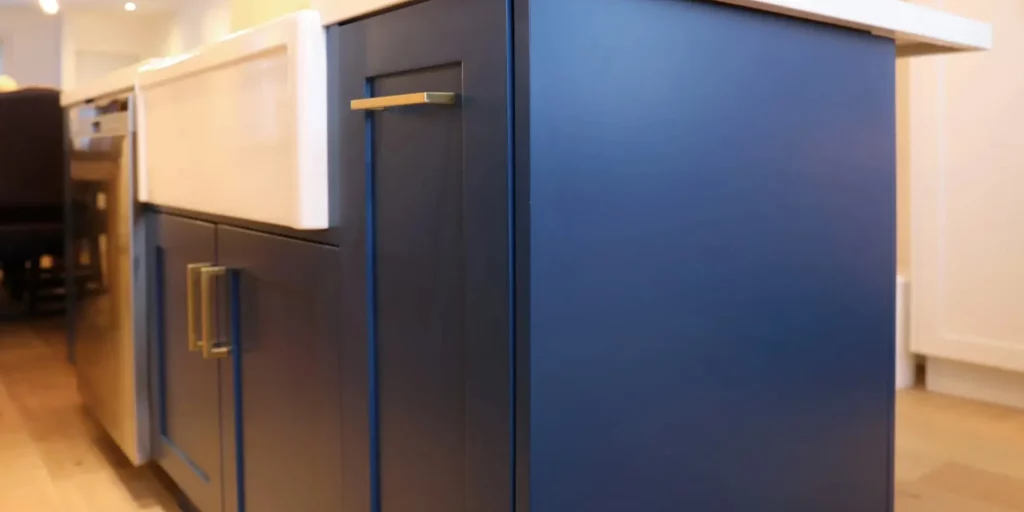 A design consultant at one of our Kitchen and Bath Classics or Wolseley Studio showrooms can help you decide what kitchen designs will
meet your functionality needs for 2023 and beyond. They can also help you choose 2023 design trend items to complete your kitchen design.
Kitchen Design Trends 2023
Home decoration in Turkey , Decor in Istanbul , Interior decorating in Istanbul , Interior style