Have you ever stayed in a beautiful hotel room you wish you never had to leave?
Often, one of the most elegant and lavish features of upscale hotels are the luxury bathrooms.
However, amazing bathrooms don't only need to belong in resorts and commercial properties.
In fact, there are several steps you can take to create a hotel bathroom in your own home.
Instead of making time in your bathroom a daily chore, luxe up the space a little (or a lot) and start enjoying pampering and prepping for the day a little more.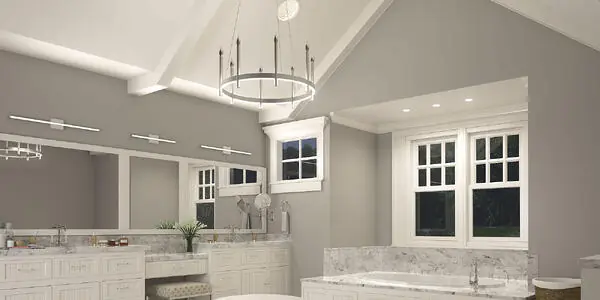 Follow these eight tips below to create your dream bathroom:
1. Go for gorgeous lighting
One of the easiest ways to transform your bathroom at home into a hotel bathroom is to upgrade the lighting.
Look at your bathroom the way a designer would look at it instead of how you typically see the space.
Where would a designer place the lighting?
Ditch the traditional light bar above the mirror, and try using scone lights on either side of the mirror instead.
If you have enough space, consider using pendants, which are a trendy look for bathrooms.
Then, pair your new lighting with a new vanity mirror to complete the look!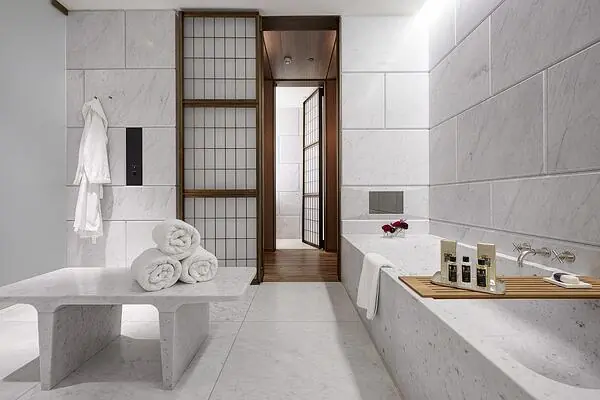 2. Toss in some seating
Think of the last upscale hotel bathrooms you were in.
There was probably seating of some sort, right?
Almost all high-end bathrooms are equipped with some sort of place to perch—a simple stool, an ottoman,
or maybe an armchair.
Adding a seat in your bathroom will not only make it look more expensive, but it will also change the whole feel of the room and give you a place to sit while you prep for the day.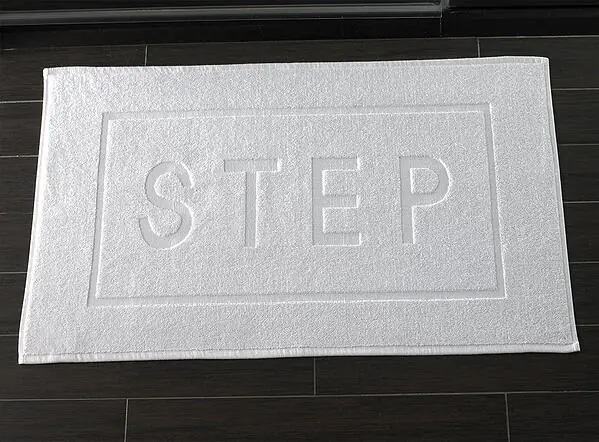 3. Swap out your bathmat
A tired or dirty bathmat is not an attractive look for any bathroom, and it'll especially hinder the appearance if you're trying to create a grand bathroom at home.
Toss your old unkempt bathmat and replace it with a brand new (and clean!) one. Or, even take it a step further.
Some fancy bathrooms go beyond using terry cloth bathmats and use Turkish and Persian rugs.
Turkish and Persian rugs made of tufted wool are soft while still sophisticated.
With beautiful colours and patterns to choose from, you can add even more personality to your bathroom.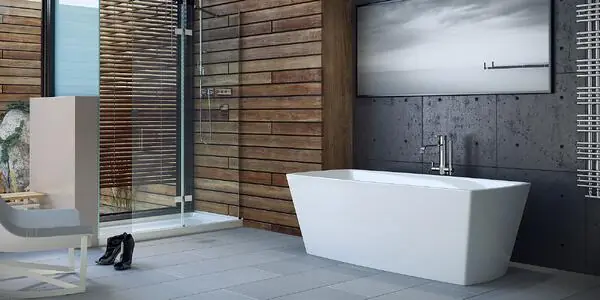 4. Invest in a new tub
There's nothing more deluxe for a bathroom than adding your dream tub or an oversized tub.
The standard size of a bathtub is 32 inches wide and 60 inches long, according to Houzz.
Instead of sticking to the standard tubs, add a large, free-standing bathtub. This will bring a sense of lavishness to your bathroom at home.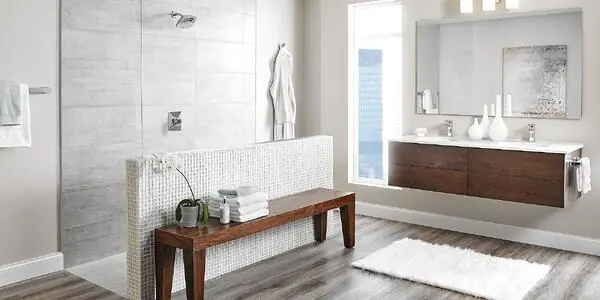 5. Upgrade your shower head
All amazing bathrooms have one thing in common—a strong shower head.
Upgrade your shower head and consider the eco-friendly option of a low-flow showerhead from Kitchen & Bath Classics.
Additionally, rainfall shower heads add a lavish touch, making every shower feel like a special occasion.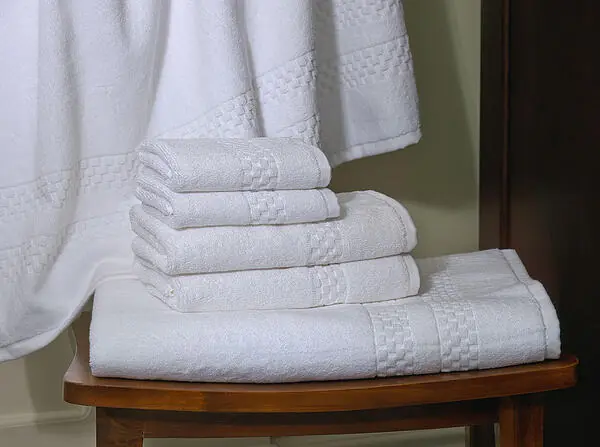 6. Pamper yourself with high-quality towels
Hotel and resort bathrooms around the world are known for giving their guests the finest of everything, including towels.
Pamper yourself and your family with fluffy, oversized bath sheets.
When it comes to colour, while many hotels use white towels in order to keep laundry routines easy.
More upscale resorts and properties feature linens in calming colours like greens or blues.
While adding irresistibly soft new towels, throw in a personal touch and have them monogrammed.
And, for an even more luxurious vacation-style bathroom, keep your bath sheets warm on a heated towel rack such as the Heatra Classic by Warmrails.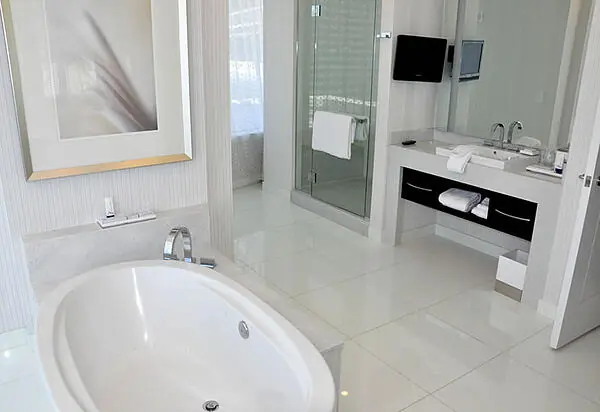 7. White-out the room
The Aria hotel in Las Vegas has famously beautiful bathrooms in its suites, one is pictured above.
And you can recreate an Aria hotel bathroom at home! Focus on white and light colours in your home bathroom.
White kitchen design has become a popular trend, so why not try a white-themed bathroom?
To do this, begin with white cabinets and countertops.
These will create the perfect backdrop for a simple yet elegant and expensive-looking bathroom. Then, paint the walls with a light neutral colour.
Add white bath towels, rugs, and  other features to create the most high-end bathroom style. Lastly, include neutral accessories to tie the whole room together.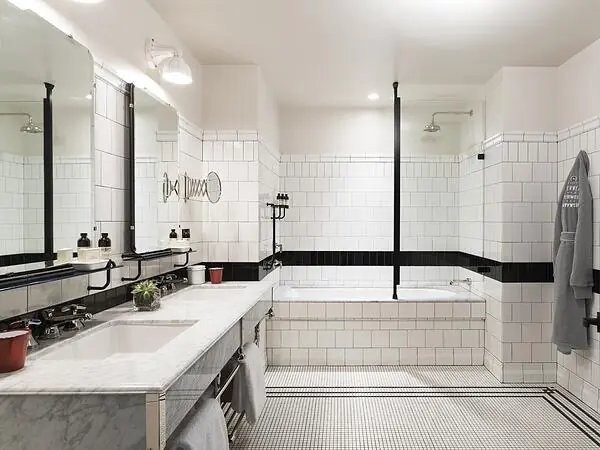 8. Arrange the room artfully
In order to mimic the elegant simplicity you find in some bathrooms,  you'll need to arrange the bathroom in an artful way.
First, clear out bathroom clutter. Then, consider your counter and the way you've arranged your beauty and hygiene supplies.
Instead of throwing things about randomly, add a few small trays to turn a mess into a classy arrangement.
---
With these eight tips, you'll be able to create a hotel bathroom at home and maybe even put those bathrooms in fancy hotels to shame.
Head to a Kitchen & Bath Classics showroom to get to work on elevating your bathroom style to luxury.
Shivart Design , Interior Design In turkey , Istanbul
Home decoration in Turkey , Decor in Istanbul , Interior decorating in Istanbul , Interior style