Make Bathroom Shine with Metallic Decor
For those that want to elevate their kitchen style, sleek stainless steel appliances have been a go to.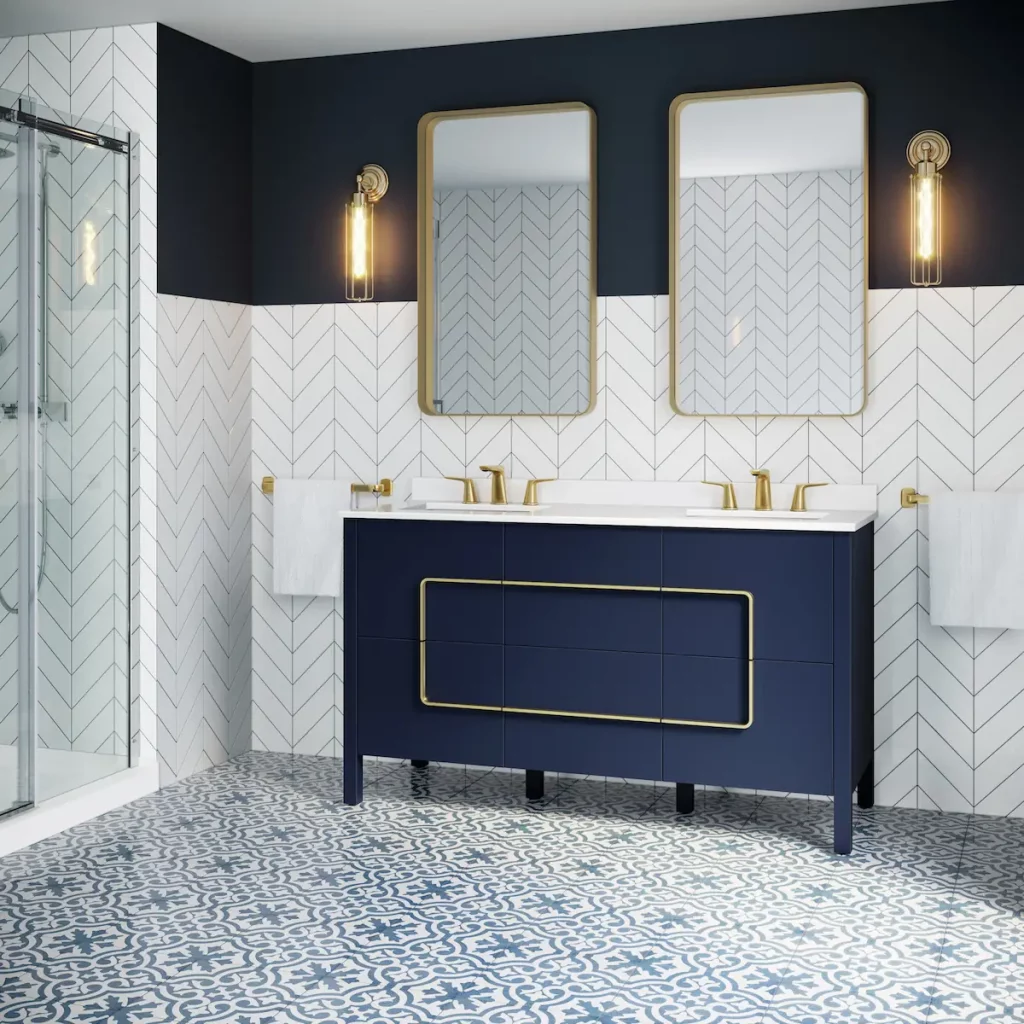 Have you thought about also incorporating metallic décor into your bathroom?
Bathroom fixtures are not the only place you can have metallic finishes! You can include them in your décor in so many ways – from metal tiles to wall art and more.
Transform your bathroom – from glitz and glam to trendy industrial, the vibe will depend on the metal finishes you choose.
There are so many options and metallic trends to tie in for a beautiful bathroom design.
Here are some of the metallic décor options to freshen up your bathroom: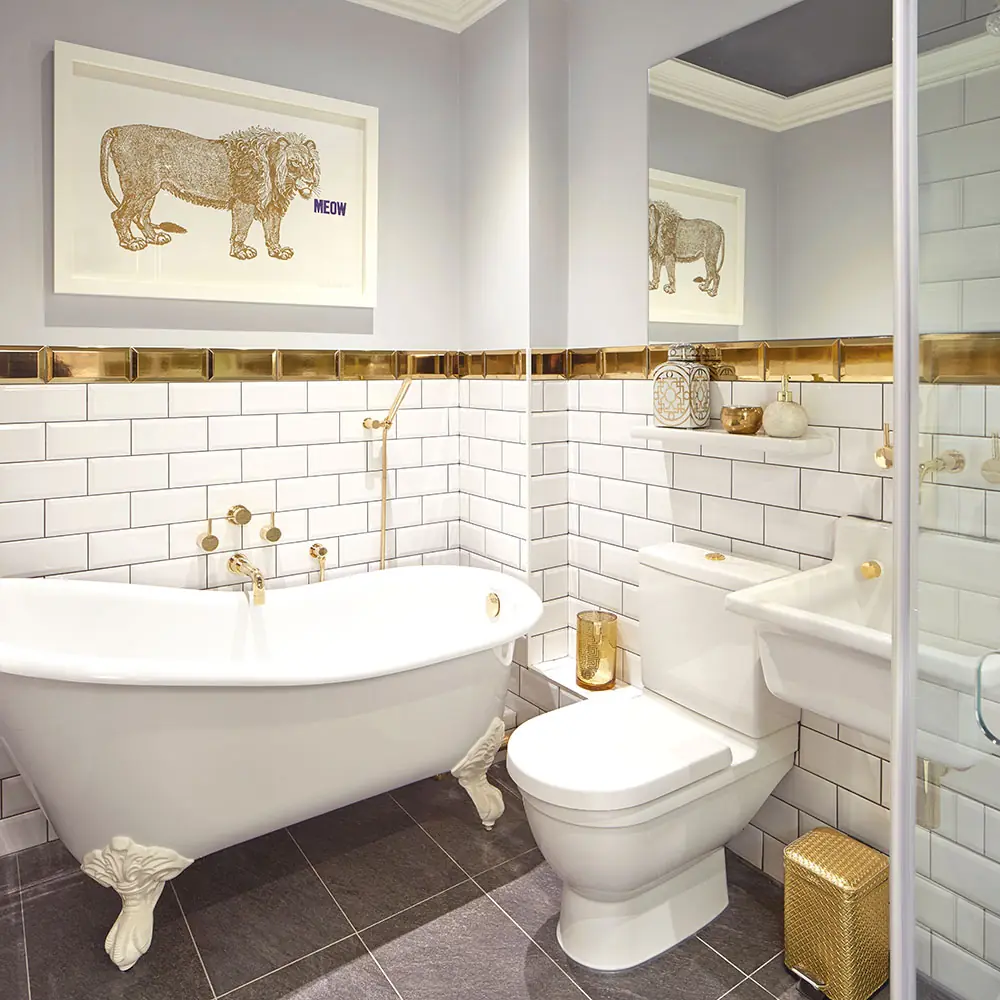 Glitz and Glam
Stainless steel or silver accents are typically what you think of when it comes to metal in the bathroom.
Trending lately is gold accents.
From sink faucet finishes to accent tiles and touches of gold leaf in wall art, adding gold to your bathroom is an easy way to achieve a luxury look.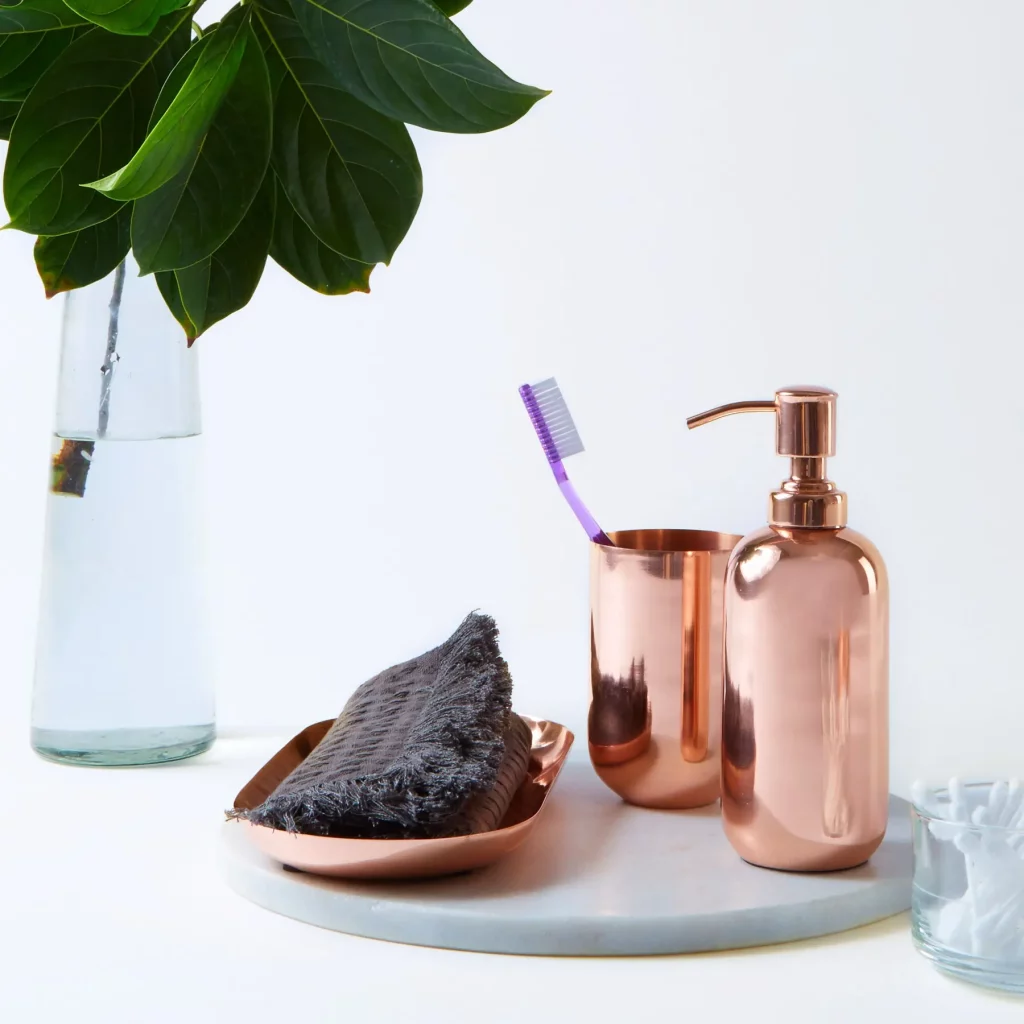 Bright and trendy: Copper and Rose Gold
Bright metals like copper and rose gold offer a different feel than traditional metallic finishes.
These metals are on trend, and easy to incorporate in your bathroom décor. Many sinks and faucets companies are now offering these new finishes,
with displays that you can view in showrooms like Kitchen & Bath Classics.
For those that can't commit to a new copper sink or faucet, picking up accent items are an easy way to add these trendy metallics to the mix.
Wall art is another great way to introduce copper or rose gold – and they look great against white and grey walls.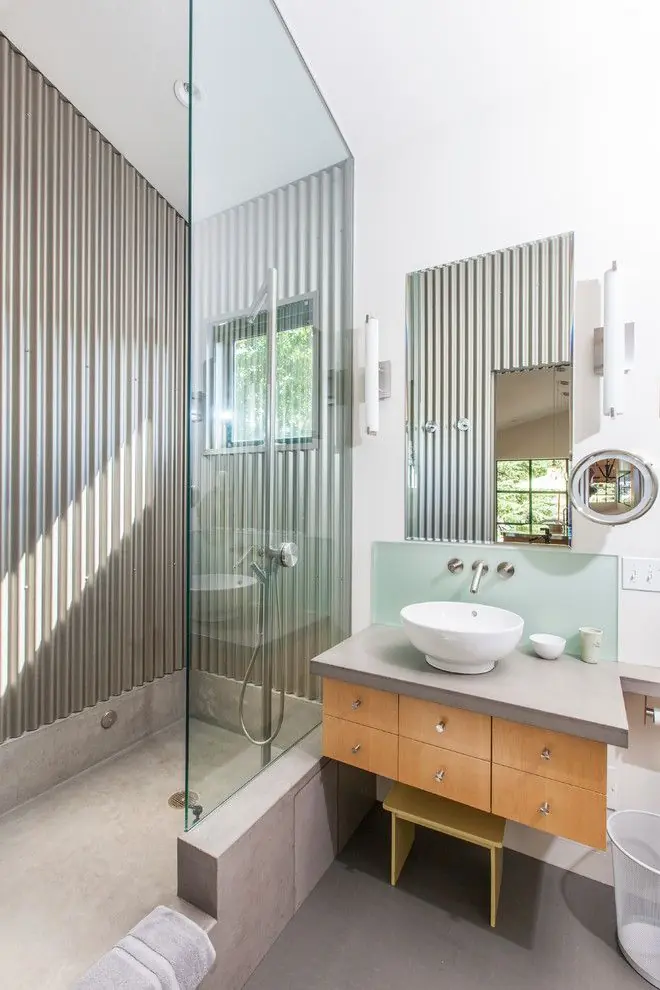 Reclaimed Style
Converted lofts full of reclaimed wood and metal often come up in trend pieces – it's the perfect mix of modern and industrial.
Try using a mix of concrete and corrugated metal to add an industrial flair, like this walk-in shower.
Plus, a glass shower wall opens the space for a larger, more welcoming feel.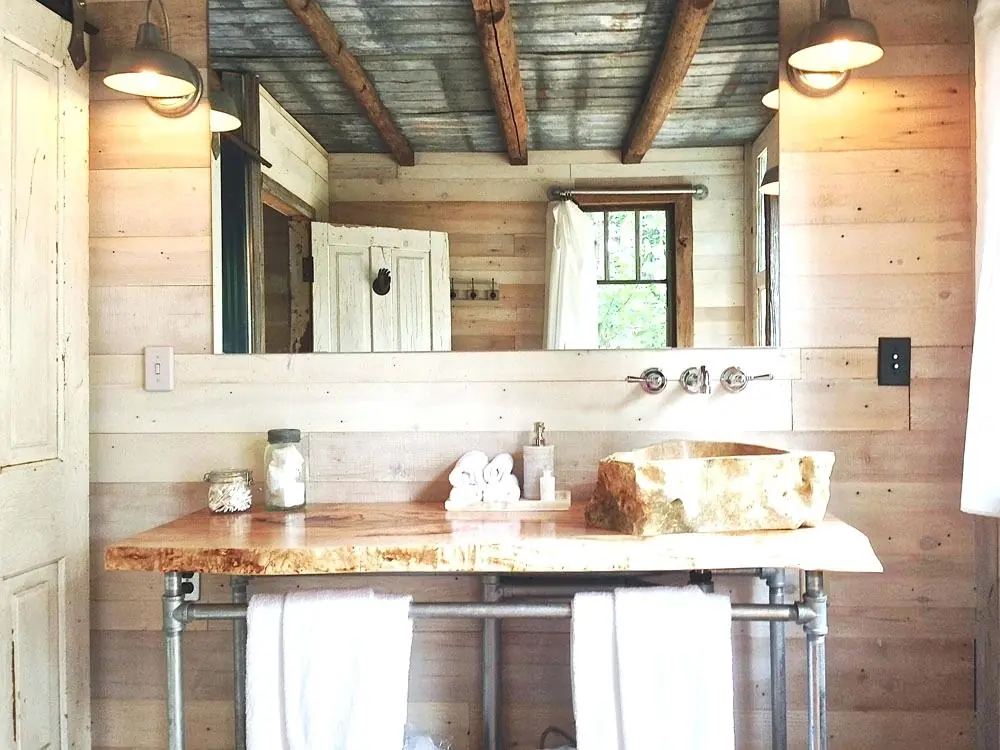 Rustic Chic
Farmhouse and rustic chic is having more than just a moment in the interior design world.
You can make use of corrugated metal and wood here like the reclaimed style, but this look takes it up a notch with a rustic feel.
Think trendy log cabin or mountain home.
This example features a live-edge wood vanity and matching basin sink, with metallic touches.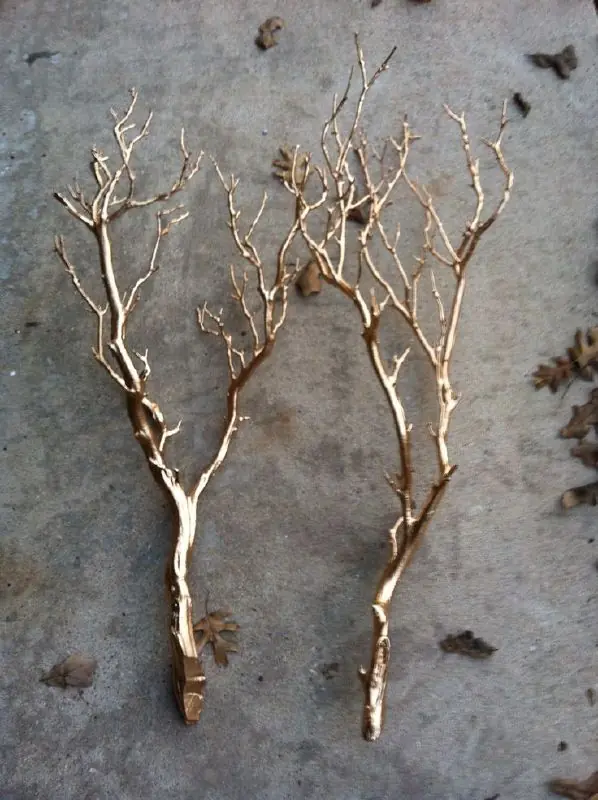 Make Bathroom Shine with Metallic Decor
Natural Accents
Industrial or modern looks aren't for everyone.
Nature lovers don't need to shy away from metallic accents. Here's a concept that is popular on Pinterest:
natural accents with metallic finishes.
This is an easy DIY project that can add a touch of shine, while bringing a bit of nature into the bathroom.
All you have to do is find a fallen branch outside, head to the store to pick up a can of metallic spray paint in your preferred colour (we love bronze or gold!)
and set up a space outside to paint your branch. Either hang the branch on your wall or collect a few smaller twigs to put in a vase.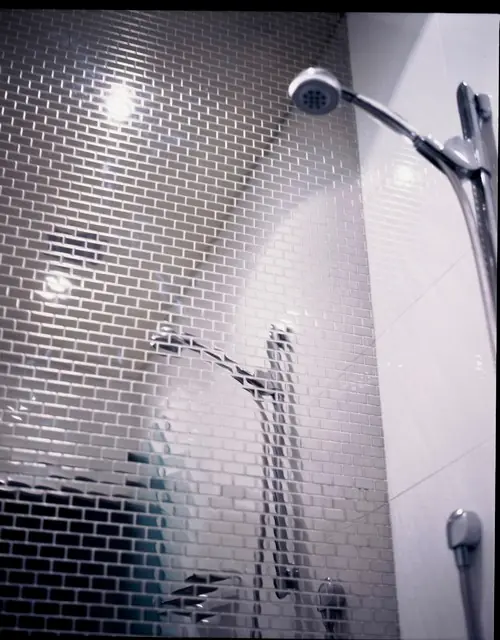 Metal Tiles
Bathroom tiles don't always have to be light. Have you considered metal tiles for a modern space?
Steel tiles can also create a futuristic look for those that want to bring their bathroom into the next century.
Bonus: metal tiles are easy to clean. But it takes a different routine than ceramic tiles.
Much like cleaning a saucepan, use warm water, dishwashing detergent and a microfibre cloth for everyday cleaning (to avoid streaking).
For those with hard water, you may need to use a homemade paste of baking soda and water to remove calcium stains.
Apply to the stains and rinse with warm water, and you're done!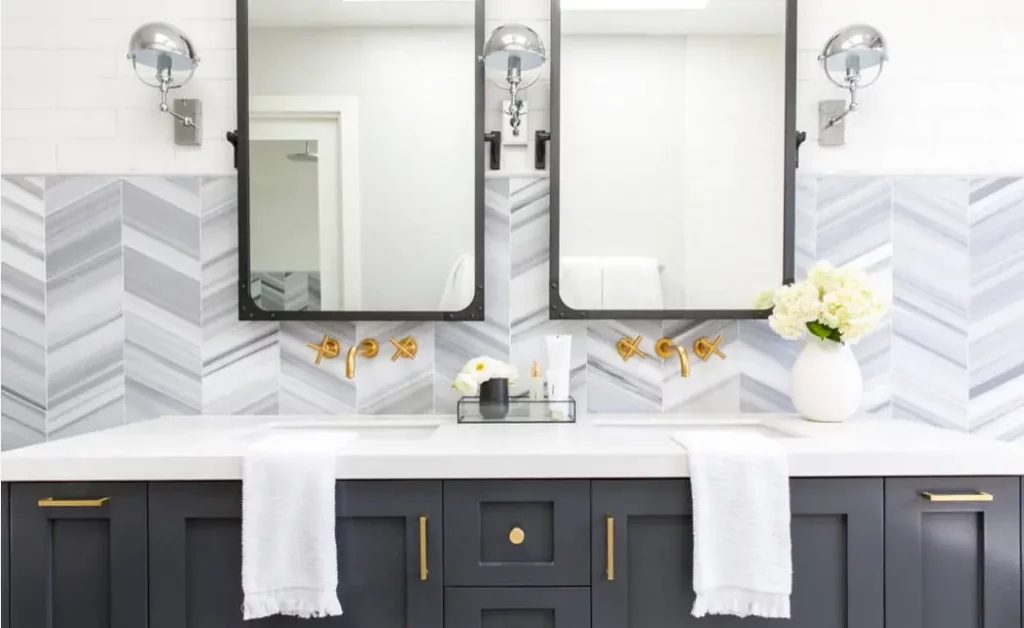 Mixing Metals
Using more than one metal in home design was once a major no-no.
But if you want to shake it up with your metallics, there are ways to mix metals to keep your design beautiful and contemporary.
First, choose a dominant metal and think carefully about what you're using as an accent metal.
You should also make sure your finishes match – pick between polished, brushed or satin, and oiled for all your elements to create a unified look.
Lastly, you'll want to find a coordinating element that includes both metals to tie the room together.
Following these easy rules will help you mix metals like a pro for a unique and stunning bathroom design.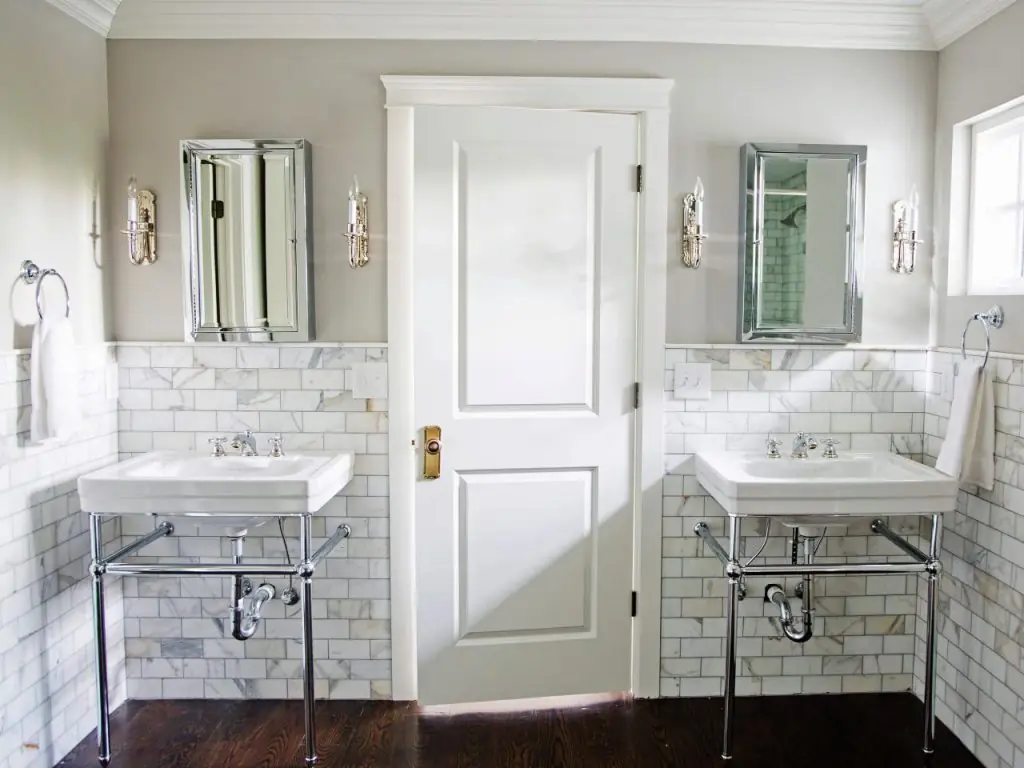 Keep a Neutral Backdrop
Your metallic accents should steal the show in your bathroom.
Make them stand out by choosing a neutral pain colour for your bathroom walls.
We love off-white or light grey to help your metal accents shine and keep your bathroom looking clean and airy.
Ready to add a metallic touch to your bathroom design?
Book a consultation or visit your closest Kitchen & Bath Classics showrooms to get started.
One of our bathroom specialists will be happy to help  you find the right metal pieces for your home.
Make Bathroom Shine with Metallic Decor
Home decoration in Turkey , Decor in Istanbul , Interior decorating in Istanbul , Interior style